The worldwide print-on-demand industry was worth USD 6.18 billion in 2022. It is anticipated to expand at an annualized rate of 25.8% between the years 2023 and 2030. The sector has grown owing to shifting customer tastes as well as an enthusiasm for giving personalized presents for events of all kinds.
Therefore, plenty of businesses are switching to employ galvo laser engravers to meet customer requests. This immediately differentiates them from the sea of generic products offered by other manufacturers. Laser engravers are a popular option among the customizable engraving possibilities provided by print-on-demand companies to their customers.
However, the greatest industrial laser engravers are those that provide the desired result while remaining affordable to small-sized businesses. To that end, we'd like to bring your focus to the fiber laser ComMarker B4 EZCAD 2023, which can engrave on a variety of surfaces simultaneously. Due to its inexpensive cost, it has become an indispensable tool for every enterprise that uses lasers.
We've included a detailed analysis of the laser that focuses on its numerous applications for your perusal down below. Read it to get the most out of it.
Market Demands 2023 and Projections for the Future
The increasing demand for print-on-demand products is mostly due to the media industry. Fans of movies, video games, and television shows in particular often seek merchandise with official logos or catchphrases from their favorite franchises. Apart from this, the jewelry industry, the woodworking sector, and small and medium-sized print shop owners have adopted laser engravers to boost efficacy.
With the ComMarker B4, the adoption of laser engravers by SMEs is expected to increase exponentially because of their accessible usage.
Moreover, such a laser engraver will become more unified with production workflows in manufacturing, simplifying the entire process.
With the ComMarker B4, we see a possibility of on-site engraving enhancing production potential as a whole.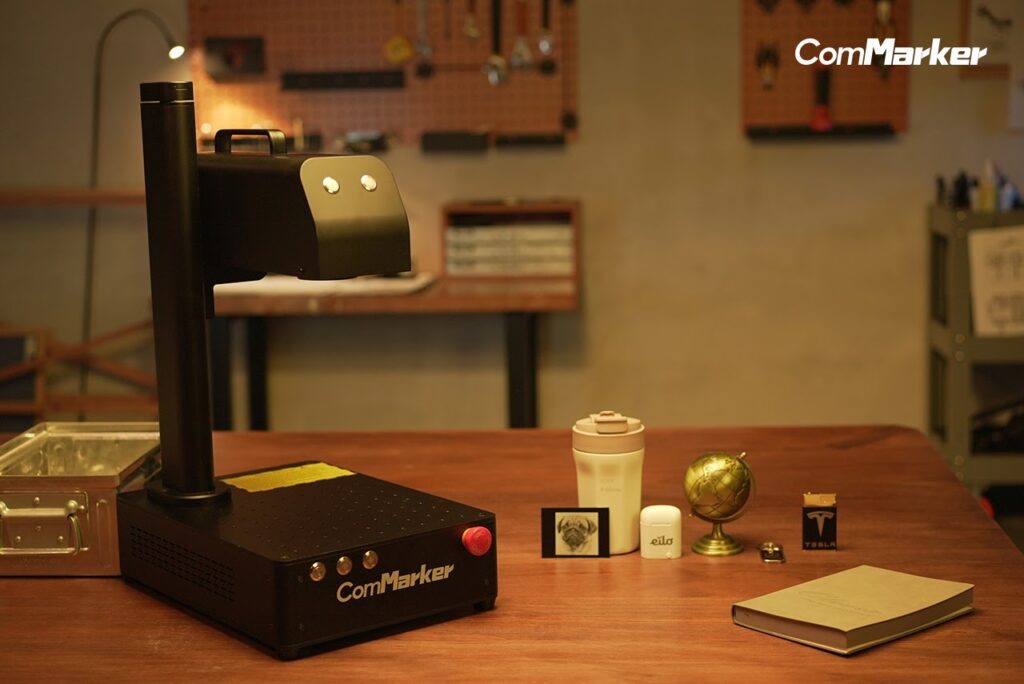 The Many Manufacturing Hurdles ComMarker B4 Enables SMEs to Overcome
Small and Medium-sized businesses often go through several obstacles to get their production workflows streamlined. Here is how ComMarker B4 aids operations:
A Portable Solution
The industry-scale lasers are too bulky and heavy, making it tricky for small business owners to utilize them for their impromptu projects. ComMarker B4's original selling point for its application in small businesses is its lightweight form. About 65 pounds is the market standard for laser engravers.
Due to its light weight of about 24 pounds, the B4 may be used by almost anybody. This function allows users to engrave in a number of different directions. It may be seen from different angles and adjusted accordingly.
Batch Engraving With Respect To Flexible Manufacturing
Production on-demand (POD) sectors rely heavily on flexible manufacturing, which necessitates the creation of products that are in sync with customer demand. In this respect, DIY engraving goods might be excessively time-consuming and ineffective.
The fact that ComMarker B4 can do the engraving in batches is just another manner in which it helps businesses of all sizes. In order to meet demand, many small firms require the ability to mass-produce engraved items quickly.
The fact that autofocus can be activated with a single press is a further simplification. When employees' production and productivity rise as a consequence of these changes, the firm benefits.
Need for Rapid Engraving
Manual engraving is labor-intensive and slow, which is a major issue for small and medium-sized businesses. That causes a delay in manufacturing and shipping. Whereas, ComMarker B4's rapid engraving speed is one of its most notable features. In comparison to regular lasers, its speed of 15,000 mm/s is incredible.
This tremendous speed boost makes it possible to finish complex designs in a matter of seconds. It may help users save time, allowing them to complete activities more quickly. This makes it an invaluable resource for any company planning to grow.
Sufficient Working Area
To meet the needs of their customers in a timely manner, small businesses need a large enough workspace. The engraving area of this laser is 11.81 x 11.81 inches. In terms of product size, it can engrave on anything up to 11.81 inches broad and 11.81 inches long. This is an appropriate size for most small and medium-sized enterprises (SMEs) interested in using a laser engraver to make one-of-a-kind designs for items like mugs, cups, jewelry, and coasters.
Precision Work
High precision is a factor that determines quality work, and most DIY products do not deliver in this regard. But the ComMarker B4 allows for precise and industrial scale engraving down to 0.01 mm. To do this, it utilizes a stable voltage supply and a high-precision field lens. The laser directs its beam to a single spot, where the concentration of power is at its highest.
Its default lens provides a 110 mm x 110 mm field of vision. The resulting laser spot is both pinpoint precise and very powerful. It's perfect for etching intricate designs on very little objects.
The laser engraving area may be increased to 200 mm x 200 mm on a single side by using a larger lens, which is also available. While the ComMarker B4's standard models, both 50W and 60W, are designed for a 30×30 cm engraving area, it's noteworthy that specialized pillars can remarkably extend this capacity, accommodating an impressive engraving area of up to 40×40 cm. However, B4 ComMarker never disappoints its customers.
Economically Viable
Multiple small and medium-sized companies spend an infinite amount of time searching online for cheaper fiber laser options. High-priced and time-consuming maintenance is required for industrial lasers. ComMarker B4 is an affordable alternative to traditional laser equipment, some of which may cost upwards of $30,000.
The pricing is reasonable (about $2500), and there is no sacrifice in engraving quality. Startup and small company owners may benefit greatly from this since they don't have to shell out a lot to expand their operations.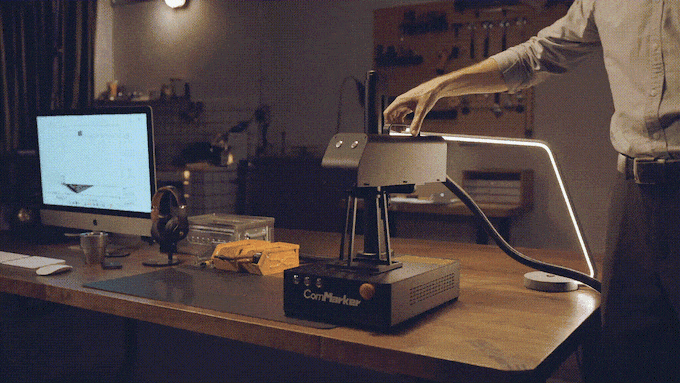 Brief Overview of ComMarker B4
The ComMarker B4 is at the forefront of engraving technology, bringing customers' visions to life. The lineup starts with the 20W version, which, despite its size, boasts the highest power output among commercial fiber laser engravers. This power translates into unparalleled precision and speed in engraving tasks. Whether it's plastics, leather, or metals, the ComMarker B4 accomplishes the job with ease and finesse.
For those who require a small industrial tool, it measures 15 x 10.6 x 22 inches. It is possible to automatically raise the ComMarker B4 for convenience. It's operated with a single hand. One of this device's biggest strengths is versatility and multipurpose.
The company's engineers incorporated an emergency stop button for consumer safety. Additionally, it has received safety certifications from the FCC, FDA, and CE. It can work with a wide variety of materials, from plastic and metal to fabric and even stone.
If you use a commarker B4 60w machine, it can also realize the function of cutting metal. Its laser technology creates excellent designs with non-metallic components. It guarantees great work regardless of the medium. It can be assembled and used quickly.
Additional Features of ComMarker B4 Aiding SMEs
The rotating chuck of this laser is of professional grade. A pair of lenses and a foot switch are included in addition to the base. Also included is a sturdy, portable distance frame. Apart from these, various features optimize the working of this laser for SMEs, which are elaborated below.
Premium Software EZCAD2
Easy-to-use software is a dream for small business owners. For this, EZCAD2 may be used to operate the ComMarker B4, which is ideal. It's inside the USB drive that's provided. The laser is also Lightburn software compatible. It's the benchmark for functioning all other fiber lasers. This powerful program maximizes the benefits of such a laser for the user.
There are many online resources, including guides, for this program's use, and it operates without any difficulties. The ease of usage is greatly enhanced by this feature.
Stability
To create accurate imprints, a steady stream of engraving is required, and the laser's advanced fiber lens ensures steady performance. This keeps the laser in its optimal operating focus even when using it manually. This facilitates precise inscriptions during the etching procedure.
Extended Service Life
The typical lifespan of a laser is between five and eight years. After that, industrial-scale lasers require replacement or maintenance. However, ComMarker B4 is unrivaled in this regard as well.
The product has a lifespan of 100,000 hours, making it an efficient commercial laser engraver. There should be around 10 years of use of this. As a result, company owners may put off investing in a new laser for engraving for longer. This indirectly saves them a significant sum of costs.
Gaining Insight into the Operational Mechanisms of the ComMarker Industrial Laser Engraver
The fiber laser's principal amplification medium is a rare-earth-doped optical fiber. The source emits, 1064-nm laser pulses. These bursts are momentarily stored in an optical cable. This combines many pulses. After that, the aperture opens and the powerful, brief laser pulse enters.
The laser engraver produces short laser pulses, not a continuous stream. It stores and rapidly releases electricity like a capacitor. Due to its large power output, it operates 20–80 W. The ComMarker B4 20W laser can engrave metal perfectly. The normal output is 20W, but its quick energy bursts may maintain approximately 10kW. This quickly melts metals.
This laser has many output power variants. 50W fiber laser engravers can engrave the same design on the same material faster than 20w/30w. If the customer needs deeper engraving, a 30W fiber laser engraver is suitable for metals. All output lasers vary in size and engraving depth/speed.
Today's market sees an ever-growing demand from consumers for tailored products, presenting lucrative opportunities for small to medium-sized enterprises. For these businesses, opting for a fiber laser like the ComMarker B4 is a strategic move. Not only is it the top choice for laser engraving among SMEs due to its competitive price, but it also promises rapid engraving capabilities.Its advanced features cater to individual users, enabling them to effortlessly realize their personalized designs. We hope this article has been enlightening for you.