With so many possibilities for bringing your creativity to life, laser engraving is the next wonderful thing you won't regret investing in. But how does a novice get involved in laser engraving, and, more importantly, when it's quite expensive?
To answer this curiosity, this blog talks in detail about all the fundamentals of laser engraving.
Introduction
Laser technology- a subtractive manufacturing method- is playing an immense role in transforming many fields, predominantly the marking and design industry. From jewelry adornments, labeling bar codes, and engraving keychains to product traceability, the heat-generating laser beam can do it all with accurate precision, the finest detailing, and relative durability.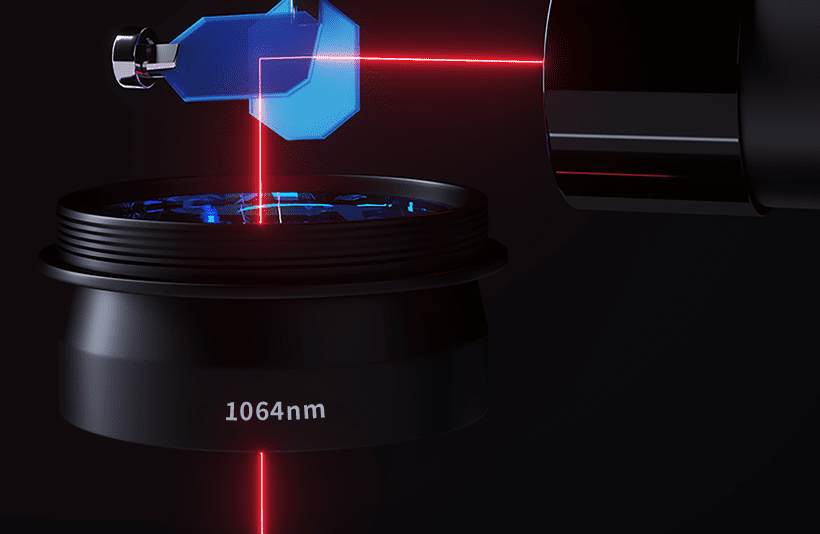 ComMarker laser engravers ensure an easy setup process, job processing features, and precise marking capabilities for your metal and plastic marking requirements.
While laser engraving entails many benefits and a wide range of real-world applications, many user-friendly and high-performing laser engravers like the ComMarker B4 make sense to purchase in the first place.
But before you head out investing your dollars in getting one, read a few of the essential considerations to make it a worthy buying.
Basics Of Buying A Laser Engraver- Five Key Essentials
When deciding to get your hands on one of the best laser engravers for your business endeavors, your search will take you to several options, and you'll find many good reasons to choose one kind of engraver over another. It's imperative to weigh the pros and cons of each before deciding on the one you want to purchase. Here are some guidelines that take you through what you need to get started.
1. The Basic Working Principle of Laser Engraving Machine
At first, it may sound easy to design and engrave a decorative piece by hand without putting in your hard-core money, but this traditional style has put many skilled artists into the struggle to protect it from daily wear and tear.
Surprisingly, ComMarker Laser technology is the most versatile method of translating your designs into tangible products by creating a permanent, precise, and accurate lifetime marking.
The working principle of these machines depends on the ability of laser beams to vaporize specified areas of the parts in given patterns, called a sublimation process, meaning it converts metals (in solid states) into gases without becoming liquid.
The laser beam supplies much energy to the part's surface, causing it to sublime. As a result, you'll notice a high-contrast modification to the material's surface. This process helps engrave barcodes, logos, serial numbers, part numbers, and QR codes.
2. Select the Right Type of Laser Engraving Machine
When choosing a laser engraver, it's essential to consider its core application. The type of materials you'll use for the engraving and the level of detail you need to achieve are crucial factors.
You must prefer a laser engraver with a high-speed engraving capability and high accuracy to achieve the best results. Popularly, there are two types of laser engraving machines.
● CO₂ Laser Engraver: The best machines for engraving plywood, wood, and wood materials (chipboard, cardboard, cork, etc.)
CO₂ lasers are gas lasers that emit infrared radiation and are the most common and widely used laser tools measuring a wavelength of about 10.6 μm (infrared).
The CO₂ optimal laser power ranges from 40W to 300W, making the machine excellent for engraving organic materials.
Modern CO₂ lasers produce the laser beam in a sealed glass tube filled with gas (usually carbon dioxide). A high voltage then runs through the tube and reacts with the gas particles, increasing their energy and producing light.
High-power CO₂ laser engraving machines are usually used for industrial applications, while low-power ones are used for commodity processing and engraving.
CO₂ laser systems are cost-effective, easy to set up, and extremely versatile they can help you start a new venture. They're also suitable for intricate and detailed design.
● Fiber Laser Engraver: The best metal engraving machines (carbon or stainless steel, aluminum, copper, precious metals)
Fiber engravers are solid-state lasers with minimal focal diameter, resulting in greater intensity than a CO₂ system. They typically have optical power of 2,000 to 4,000 watts, 10 times more than the CO₂ Lasers machine.
Fiber laser engravers operate at 1064 nm wavelength, making them mark a wide range of materials, though more optimized for metal marking applications. From traceability marks such as barcodes, QR codes, and text to other graphics on things like personalized items, switches, phones, and jewelry, Fiber laser can do it all.
These machines can outperform many industrial applications such as cutting, etching, marking, and engraving hard materials, thus automating the process through computer software.
Fiber engraving is considered a safe, sustainable, eco-friendly, and excellent business investment. They usually consume less power and offer long-term stability, efficiency, precision, and reliability.
The lifespan of fiber laser engravers is commendable, with an expected lifespan of about 100,000 hours. But these machines are pretty expensive, and the upfront cost is relatively high.
3. Consider Engraving Material and Machine
Laser engravers are such valuable devices that allow you to engrave customized designs on various materials, including metal, ceramics, plastics, and more. Examine the different projects you will be working on and the type of materials you are engraving before choosing which laser engraver you wish to purchase.
The M2 Laser Desktop Laser Engraver and the B4 MOPA JPT Fiber Laser Engraver are both designed for engraving many different types of materials. Here are the many other materials that can be engraved with ComMarker laser engravers.
Metals such as pure iron and steel are the preferred Fiber laser engraving machine type because they absorb light with a 1064 nm wavelength. Some metals, such as aluminum, have high thermal conductivity therefore, fiber lasers can mark them at a high temperature for high-speed applications.
ComMarker Fiber laser engravers can elevate your metalwork craft and unlock your limitless artistic potential by working ten times more efficiently than a CO₂ laser. They can concentrate higher amounts of energy on a single point.
The minimum base material thickness for all metallic, molded, or sheet plastic materials to be laser marked/engraved shall be 0.030 inches.
The finer, more precise, and highly versatile marking you see results from fiber laser machines. Whether marking barcodes, QR codes, or serial numbers fiber laser machines provide readable marks quickly and efficiently on almost any metal (aluminum, steel, magnesium, titanium, or lead).
Here is a chart that shows the relationship of metal with temperature.
| | | | |
| --- | --- | --- | --- |
| Material | Thermal Conductivity | Reflective | Vaporization Temperature |
| Carbon | 13% | 27% | 2700 °C |
| Aluminum | 60% | 90% | 2400 °C |
| Stainless steel | 17% | 80% | 2700-3000 °C |
Note that the more heat-conductive and light-reflective the materials are, the harder it will be for a fiber laser machine to engrave. So, if you need to work with metals with these qualities, the 50W fiber laser engraving machine is recommended.
A20W fiber laser goes well if intended to mark and do light etching on metals.
Marks produced by laser engraving have a depth of up to 0.020 inches.
The benefit of using laser engravers instead of traditional engravers is that you can precisely engrave plastic without worrying about melting the plastic. The UV laser marking machine is a great choice for a versatile, innovative, and less damaging approach.
In many cases, using a MOPA laser (variable pulse) works great for plastics. Because of the ability to control pulse timing, this laser performs exceptionally well, even for some difficult applications.
The UV 355 nm wavelength lasers have a very good effect on plastics. They deliver more attractive visuals and better improved appealing aesthetics. In fact, the difficult-to-mark plastics absorb the UV wavelength and create marking by photochemical reaction, which is very smooth.
Instead of heat pressure, UV laser machines use an absorption technique to carve objects. The high absorptive wavelength, 355nm, allows the laser to perform Cold marking, ensuring no excessive heat affects the base materials. This reduces soot and burrs caused by infrared laser beams.
Considering the laser power, a 3W UV machine or a 20W or 30W fiber laser works best for more accuracy and marking effects on plastics.
By using the ComMarker Fiber Laser (1064 nm) technology, the machine quickly produces permanent marks on your plastic component by reacting with the chemicals in the plastic to create a colored mark on the plastic, whether it is black, white, orange, or many other colors of plastic.
4. Safety and Precautions Operations
Undoubtedly, Laser engraving is a reliable solution to perform all your marking needs, but failing to use it properly might expose the operator to severe harm and danger. Thus, one must be aware of the precautions before using them.
Preventive Measures
To be safe, it's recommended to follow these measures.
Laser beams are highly intense and invisible; if you come in direct contact, they can cause severe burns and eye damage. So, when working near laser equipment, don't forget to wear your laser safety goggles.
Laser engraving machines can potentially cause fire outbreaks; therefore, an operator must plan to set a fire extinguisher in place.
During the marking and engraving process, the machines emit toxic fumes and smoke, so install a properly maintained fume ventilation system at the facility. This will protect all fumes from building up inside and making inhaling less problematic.
Keep an eye on the type of engraving material because each possesses its own set of properties. As you process plastic or other metal materials, it emits fatal rays, so reading about them beforehand is crucial for your personal safety.
Read the product manual so that you can appropriately know the tool handling. Also, staying at a safe distance is another approach to minimizing potential injury.
In case you need to move the system position or want to lift the machine, don't do it alone. Always seek the assistance of one or two other people. The weight of the system may lead to injury.
While cleaning, maintaining, and servicing the laser equipment, remember to disconnect the power and remove the power cord from the electrical supply.
5. Total Investment & Operating Costs
The cost associated with laser engraving depends on several factors- size, laser power, wavelength, type of material, and the kind of laser engraver you install.
Estimated Costing Relative to the Factors: Power, Type, Working Space, Material
CO₂ laser Engraving
A standard CO₂ laser module, or a home and hobby laser machine, costs $150 to $500.
On the other hand, large-format CO₂ laser machines charge around $15k to $150k. Laser machines with an industry-level performance can even go as high as $500k.
Large-format CO₂ laser engravers with a power range of 30W to 500W can engrave onto large work pieces and quantities of wood, glass, acrylic, fabric, leather, and rubber. These tools are priced at around $15k to $150k.
Estimated cost with Maintenance Needs and Consumables
Aside from the machine setup charges, the CO2 laser engraving machine has to face several other servicing expenses such as:
Lens and nozzle alignment (daily)
Lens protective cover: $10-$20 each (daily)
Emptying scrap bins/dust collection units (daily)
Lubrication (daily/weekly/monthly depending on machine and use)
Replacing air/gas filters: $2,000 – $4,000, (semi-annually)
Cleaning/replacing dust collector filters (depends on materials being cut and level of machine use): $800 – $2,000, (every 6 months)
Fiber Laser Engraving:
If you decide to get a high-quality, high-powered, technology-integrated fiber laser engraver such as the B4 MOPA JPT, be mindful that it will charge you some hundred dollars. With laser power ranging from 20W to 60W, these fiber lasers cost from $3k to $10k. When it comes to engraving, a fiber laser is generally more effective than its C02 counterpart.
Most industrial-grade laser engravers that offer state-of-the-art technology range from $250k to more than $1 million.
However, High-power, automated fiber laser engravers can cost well over $2 million.
Generally, for standard specifications of fiber lasers, a 20W small-size machine with an engraving area of 200 X 200 mm costs about $2299~$465900, a 30W machine with an engraving area of 200 x 200 mm costs $2900~$5250, and 10W diode laser with a working area od 110*110 mm $999~$1348.
Also, the engraving material you use has some impact on the overall cost of your fiber laser machine. Depending on the laser engraving material and the expected mark result, different kind of machine is needed, whether it is fiber, CO2, or UV laser machine.
Further adding to the cost is the requirement for the carving effect on material. The more refined carve you need, the more laser engraving tools are needed, ultimately raising the machine costs. Similarly, for deeper, profound, and high-contrast engraving, a high-power laser machine needs to be set up while costing you a certain expense.
All in one, Engraving requires extremely accurate equipment, intricate step-by-step processes, and the proper tooling, among other things.
Conclusion
Laser engraving is an exceptional tool with numerous advantages, such as speed, reliability, accuracy, and versatility. The broad type of materials it can engrave on (plastics, metals, ceramics, and more) allows you to bring your creative ideas to life.
It also opens up a whole new world of possibilities for hobbyists, professionals, and business entrepreneurs. If you comprehend the basics and get the proper hold of it, it will help you create personalized, stunning, and unique designs.
As you reflect on this information, you can turn this passion into a profitable business.