With global markets accepting the customized products industry as one of the popular sectors, many individuals have gravitated towards this business approach. Everything is now digital and industries are looking for more personalization for their production goods, and within this whole deal, laser engraving machines have seen a new hype.
Everything from manufacturing tools to gift items is now personalized as a standard practice. The POD industry has reached a record high of $5,3000 Million and is projected to rise more in the coming years. Due to this, laser engravers are an effective and productive tool to carry out these processes.
These can not only affect the ROI of a personalization business but help in the advertising process as well. Here's a comprehensive article on how and which laser engravers can assist you in propelling your business forward in this competitive market.
Understanding Laser Engraving
The technology behind laser engraving is known as light amplification by stimulated emission of radiation (LASER).
Basic Principles of Laser Engraving
When activated, a laser emits a beam of cohesive light, in which all the individual light particles are precisely in phase and have the same frequency. This permits the laser beam to be concentrated in a compact area, where the energy density is quite high.
The substance being targeted by the laser beam will either melt or evaporate as a result of the intense heat it generates. Laser strength, laser beam velocity, and carved substance all contribute to the final depth of the engraving.
Different Types of Laser Engraving Machines
Depending on the laser medium and functionality, there are varying types of laser engravers, as elaborated below.
CO2 Lasers Engraving Machine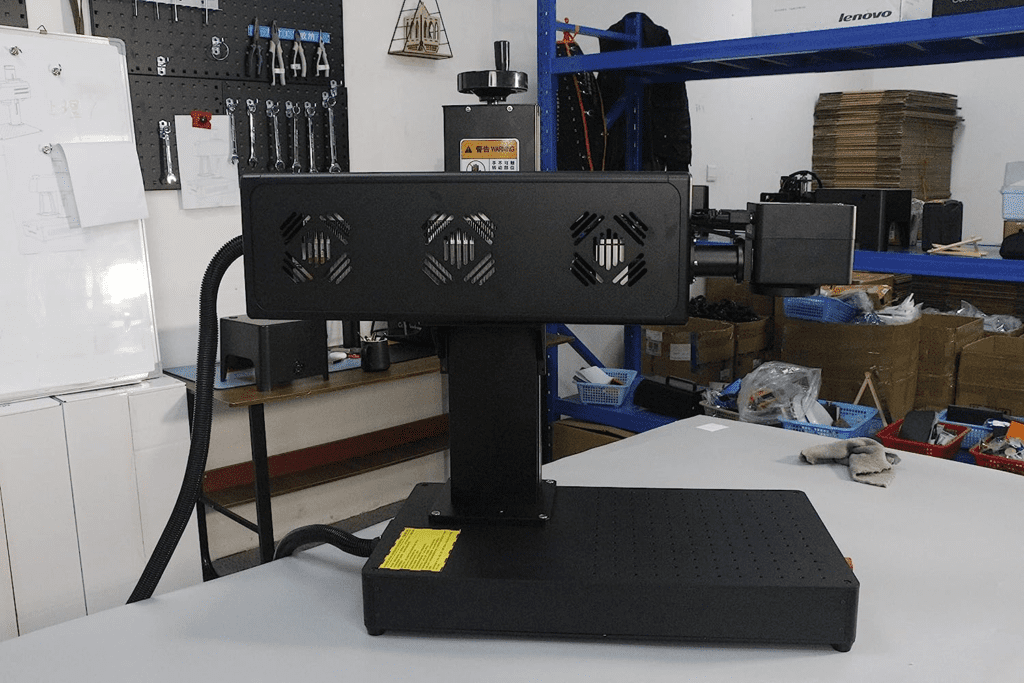 Among laser engraving machines, CO2 machines are prevalent. They use CO2 as the medium to carve into the intended material. They may be used for engraving on glass, fabrics, polymers, wood, leather, and even paper, demonstrating their adaptability. CO2 laser engraving devices are widely used because of their low cost and widespread availability.
Fiber Laser Engravers

In recent years, the popularity of fiber laser engraving devices has skyrocketed. These use optic fiber laser and XY-axis movement to create fine details on the materials of various substances. Fast and accurate, fiber laser engraving devices can engrave designs into metals and leather with precision.
The cheap maintenance of fiber laser engraving equipment makes them a viable option for continuous use in manufacturing.ComMarker B4 is the ideal laser engraver for the personalization industry as it has a broad working area of 110x110mm and a long lifespan of 100,000 hours.
Diode Laser Engravers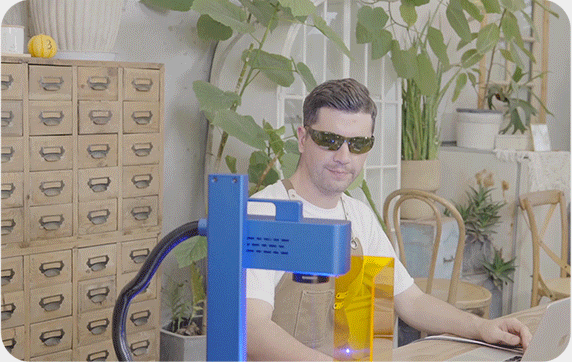 The most budget-friendly option for laser engraving is a machine that uses diode lasers. Although they are the weakest of the bunch, they can engrave plastic, wood, and leather quite well. Diode laser engraving equipment is well suited for use by individuals and smaller enterprises. In this respect, ComMarker Q1 Diode Laser Engraver is ideal with a high power output and high-volume production capacity.
UV Laser Engravers
UV laser engraving equipment is the highest level of laser engraving specialization. They engrave using UV light and can handle a broad range of materials, from rubbers and plastics. UV laser engraving equipment has widespread use in the healthcare and electronics sectors.
The Science Behind Laser Engraving
The laser light's absorption and reflection of various materials varies. Since the laser's settings are material-specific, this implies that specifics can be changed to customize the engraving process for each individual material. Because of their great reflectivity, metals need a stronger laser in order to be engraved. Since plastics reflect light less than glass or metal, a less powerful laser may be used on them.
Benefits of Using Laser Engraving Machines in Personalization
Precision and Accuracy
The preciseness and intricacy of engravings made with laser equipment are unparalleled. This quality makes them perfect for adding a unique touch to jewelry, trophies, and other items. The ComMarker B4 is a great example in this aspect, as it shows a precision of 0.0.1mm.
Versatility
Laser engraving machines are versatile in that they may be used to engrave not just metals but also plastics. This makes them perfect for adding a unique touch to an array of products.
Speed and Efficiency
Laser engraving equipment is extremely fast. This enables mass customization of a wide variety of products in a short period of time. This is great for SMEs and startup owners.
Durability
Laser engravings last a lifetime without deteriorating or showing wear and tear. Due to this, they are perfect for adding a distinctive detail to objects that will be used regularly or stored for a long time.
Eco-friendly
Unlike traditional engraving techniques, laser engravers require low energy to operate. ComMarker B4 can be used by attaching it to a 220V power source easily. Apart from this, these engraving machines create the least amount of waste on the surface of the product during the engraving process. It also doesn't use any chemicals during production. This makes the entire process environment-friendly.
Comparing Laser Engraving with Other Personalization Techniques
Here's how laser engraving is different from other personalization techniques.
Traditional Methods
Hand Engraving
Hand engraving is much more time-consuming than laser engraving. Although the precision levels are high in both types, hand engraving allows for personalized touches, but laser engraving works with automated programs applied to the machine.
Stamping
The level of detail stamping can offer is not as much as a laser engraver. Apart from this, laser engravers can have linear and rotary attachments, allowing engraving on flat and cylindrical surfaces. However, stamping is limited to flat surfaces.
Embossing
Only paper-based and soft materials are compatible with this technique. However, laser engravers can create carvings on metals leathers, etc. Embossing equipment can be affordable, but it requires dies and plates, which can add to its overall cost. However, laser engravers have low maintenance and operating costs.
Modern Methods
UV Printing
This technique can be used on flat surfaces and slightly curved surfaces. Laser engravers however can be used easily on either flat or spherical objects. UV printing durability depends on substrate quality, but laser engraving is durable on all materials.
Sublimation
Only polyester-based materials and some other coated substances like ceramics are compatible with the sublimation technique. However, laser engravers are compatible with a diverse range of materials from metals, and leathers to plastics. Sublimation is limited to flat surfaces, but laser engraving can engrave flat and spherical surfaces.
3D Printing
In terms of methodology, uses, materials, accuracy, and market reach, 3D printing stands in sharp contrast to laser engraving. Laser engraving creates surface markings by removing material. Whereas, 3D printing constructs three-dimensional items layer by layer for a variety of purposes.
Factors to Consider Before Investing in a Laser Engraving Machine
Assessing Your Business Needs
Assess the volume of your production line. If you work in the print-on-demand sector, then make sure you choose a laser engraver with fast speed. Flexible manufacturing machines are ideal in this domain. With the right linear and rotary attachments, laser engravers can carve on a variety of materials automatically.
Quantity, Variety, and Target Audience
High output power and large working space should be considered when buying a laser engraver for your business. A versatile device should be preferred that can continuously engrave a diverse set of materials. In order to appeal to the high-end clientele you want to attract, you may want to invest in top-of-the-line laser engraving equipment. For a more cost-conscious audience, less expensive laser engraving equipment might be a better option.
Initial Investment and Ongoing Maintenance Costs
The laser engraver is only a good investment if the consumer sees a return on their investment. A laser engraver's profitability is directly proportional to how accessible and inexpensive it is.
Laser engraving is more cost-effective than many other techniques, as most laser engravers have low initial and maintenance costs. Laser engravers also use low power, which saves the power consumption costs.Second, the ROI of the company's overall investments relative to its production must be considered. All running expenses, such as power consumption and maintenance, must be accounted for.
In the long run, the laser would be worthwhile if it could provide returns equal to or more than two times its original expenditure. ComMarker B4 is excellent in this respect.
Training and Safety Precautions for Operators
As laser engraving machines can be hard to operate, the operating staff should be given proper instructions to use the machine safely. For example, with the ComMarker B4, the device should be used with one hand. There should be a safe distance between the device and the operator. Popper safety glasses and gloves should be worn while using the device. Avoid direct contact with the laser beam as it can cause serious burns.
Space Requirements and Ventilation
A compact laser engraver is required for personalization businesses. It should fit into the workspace easily and not be bulky. It should be easy to move around. Apart from this, consider the ventilation of the areas and If the machine requires a fume extractor. This is generally because laser engravers can create toxic fumes that should be filtered out of the working area.
Case Study: Successful Personalization Businesses Using Laser Engraving Machines
Real-world Examples
Apple
Personalization of Apple goods, such as iPhones, iPads, and MacBook, is accomplished via the use of laser engravers.
Amazon
Jewelry, trophies, and presents are just some of the items that may be engraved with a laser at Amazon.
Tesla
In order to permanently label their automobiles with serial numbers and other information, Tesla employs laser engravers.
Nike
Laser engravers are used by Nike to add unique touches to shoes and sporting wear.
Signarama
Signarama is the industry standard when it comes to signage and graphics. Business signs, advertising signs, and safety signs are just a few of the many types of signage that Signarama produces using laser engraving.
Thoughts Remembered
Things Remembered is a specialized store that provides engraving services and unique presents for special occasions. Items such as jewelry, presents, and awards are engraved using lasers at Things Remembered.
Markforged
Markforged is a company that creates laser engravers and 3D printers. Companies in the manufacturing, engineering, and design industries all employ Markforged's laser engraving equipment.
Lessons Learned and Best Practices
When learning how to use a laser engraver, it's advisable to begin with the lowest possible settings. If you follow these steps, the object you're engraving is less likely to be harmed. The parameters may be increased at another point if necessary.
Remember to save your design when you've finished working on it. Your laser engraving program will be able to import the file without any quality loss.
There are engraving machines that work better on metals and those that work better on plastics. When deciding on a machine, it's crucial to think about the substrates you'll be working with, the dimensions of the objects you'll be engraving and your budget.
It is recommended to practice engraving on a test piece first, before deciding on the final engraving on the actual item. By doing so, you can make sure that the engraving comes out just as you intended it to.
Choosing the Right Laser Engraving Machine Brand for Your Business
While narrowing in on a brand for a laser engraver for your personalization business, you can consider the following things.
Key Features to Look For
When choosing a laser engraver from a certain brand, consider factors like the power of the machine, its size, software compatibility, and customer support. Browse through the brand's website to learn about the features of different laser engraving machines.
Top Brand in the Market and Unique Selling Points
ComMarker
ComMarker is the optimum and highly sought-after brand, selling a diverse range of laser engravers for multiple purposes. Known for its reliability, ComMarker platform is known as a top-notch manufacturer worldwide. The devices they offer are eco-friendly and create the least amount of waste.
In addition to traditional CO2 laser engraving machines, ComMarker also provides modern fiber laser engraving machines and diode laser engraving machines. ComMarker makes devices well-suited for both SMEs and professional consumers, as well as for both personal and commercial use.
One of the main selling features of ComMarker laser engraving devices is how affordable they are. The cost of a ComMarker machine is far less than that of competing laser engraving devices. They are thus highly recommended for those on a limited budget.
The convenience of its laser engraving devices is another one of its main selling points. The software that comes standard on ComMarker devices is intuitive and makes it simple to design and organize your projects. You may maximize your machine's potential with the aid of ComMarker's many available tutorials and support manuals.
The Importance of After-sales Support and Warranty
The quality of the manufacturer's after-sale service and guarantee should be taken into account when selecting a laser engraver. When you buy from a reputable company, you can be certain that you'll get helpful assistance after the purchase and a solid guarantee to cover any potential breakdowns.
ComMarker offers a 1-year warranty on all its laser engravers. They also provide an online support center, email support, and phone support for its customers. Contacting the laser engraver's provider in the event of technical difficulties is an excellent option.
The manufacturer will have a staff of technicians who can assist you in identifying the source of the issue. They can help restore normal operation to your equipment.
Conclusion
Customized products are high in demand with the rise of social media and the product labeling industry. Many SMEs and startup founders can opt for laser engravers that have high precision within an affordable range. Flexible manufacturing is possible through these. We hope this article provides all the details on how a laser engraving device can be a great choice for your personalization business.