The use of lasers for engraving has skyrocketed in popularity. In recent years, it has demonstrated extraordinary long-term viability. Patterning a surface with a laser beam is called laser engraving. This technique is widely used in the customization of consumer goods. This is due to the growing demand for unique items. It is used in advertising, the jewelry business, and other areas.
This is a fantastic tool for marking logos, initials, promotional brand graphics, etc onto different substances. Sales of laser engravers have gone up every year since the device was first introduced. It shows how popular it has remained throughout time. Companies of all sizes may profit from fiber lasers because of their ability to precisely mark and engrave a wide range of materials.
Rising prices and greater returns on investment are inevitable results of rising demand for laser engraving tools. The most ideal fiber laser, however, combines low cost with excellent efficiency. For optimal usefulness, we recommend the use of the ComMarker B4. It can cut to a variety of depths and the results are precise.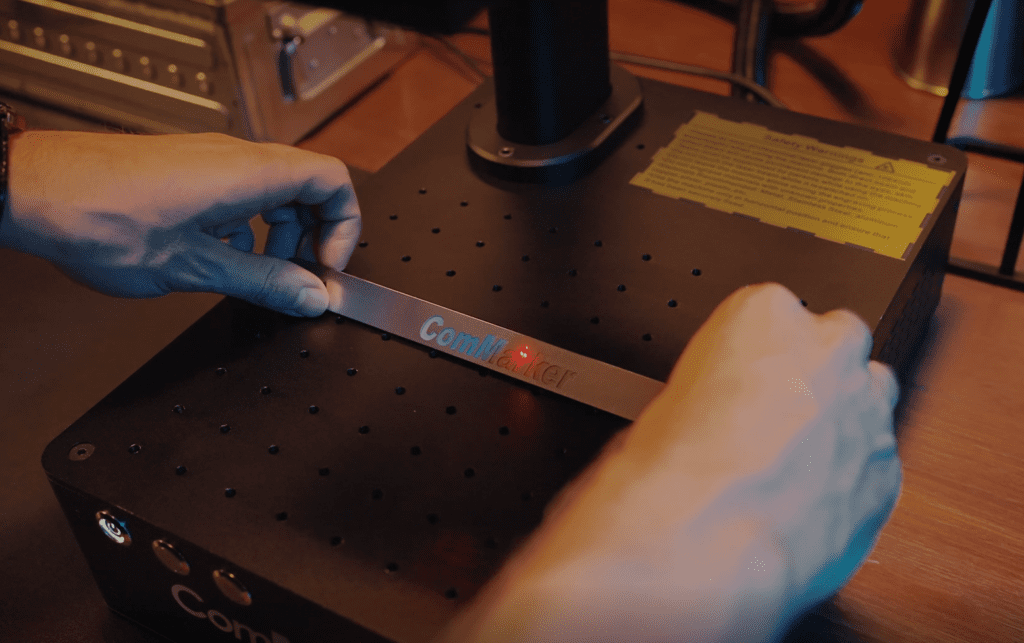 To determine the entire working of a laser engraver and explore which laser is appropriate for which sector, we have created an all-inclusive article below.
To make deep, lasting carvings, a laser engraver evaporates the specific area of the material subjected to the laser, into vapors. The laser light may be utilized as a chisel. It carves into the surface, leaving behind incised markings.
The laser's focused beam delivers a tremendous amount of power to certain places. It uses a hybrid melt-and-evaporation sublimation method. When subjected to the intense heat of the laser beam, most materials melt. Through evaporation in a particular area, it leaves a cavity in the material.
Common engraving depths of laser engravers generally range from 0.25mm to 0.5mm. The pressure generated by the vapors of the melting material forces the melt outward. When it cools, it forms a border of solidified melt known as a melt rim. U-shaped engravings are created here.
As the laser penetrates farther into the material, the beam narrows. Due to the pinpoint size of the laser's beam, the heat that is applied in one area is limited. This is supported by short pulses created by the laser. The surface may immediately soak up sufficient energy to go directly from solid to gas. It bypasses the liquid phase entirely.
Comparison Between Laser Engraving and Other Engraving Techniques
Laser engraving employs an advanced method of etching patterns onto different substances. There are other engraving techniques that include traditional engraving, CNC engraving, sandblasting, etc. Below, we have compared them against laser cutting in detail.
1. Traditional Engraving
It is generally a manually operated procedure where tools are used to carve materials from the external surface of the material. It is time-consuming and extensive.
Laser engravers are in comparison time-efficient with batch engraving and automated. They take 1/3rd the time of a conventional engraving method. ComMarker B4 has a marking speed of 0-15000 mm/s making it an excellent choice.
2. Sandblasting
There is sand utilized along with other abrasive components to etch the surface of a material. It is effectively challenging to control the depth of the cuts made.
Laser engravers take a stance in this regard as they follow a non-contact processing approach. ComMarker B4 utilizes LightBurn software, which automatically determines the depth of the cut according to input requirements.
3. CNC Engraving
With the help of a computer-controlled program, patterns are made on the desired surface through CNC engraving. However, this process is not precise and leaves frayed and harsh ends at the end of engraving.
With high-precision cuts, laser engravers are a must better approach here. The ComMarker B4 engraves any material from steel to leather with 0.01 mm precision, making it ideal for SMEs and even bigger corporations.
Industry-Related Applications of Laser Engraving
Although laser engraving is now being employed in a vast majority of industries, these are typically loved in several sectors. Some of its popular applications in product industries as well as entertainment-related areas are elaborated below.
Equipment Identification and Tool Marking
Several tools, electronic equipment, and other such materials can be easily verified by engraving a serial code on them. This can be easily done by laser engravers such as ComMarker B4.
For inventory and management monitoring and usage, barcodes can also be etched onto steel and aluminum items.
Alongside this information, scanning can be made easy from goods through QR codes that can be drawn on using this technique.
Art Projects and Customized Decorations
To create statement art on materials such as leather, aluminum, copper, titanium, etc. can be bulk manufactured using laser engraving. Customized goods are high in demand in the POD industry. Thus, ComMarker B4 uses its EZCAD2 software to create intricate and complex designs on such materials easily.
For events, store banners, and offices, signanages, and logos can also be etched easily employing such lasers.
Science kits to help kids in their educational endeavors Many production houses seek laser engravers which is high profiting sector.
Decoration pieces can be made with the color-related settings on the ComMarker B4. This can create colorful patterns and designs on various metals with 3D designs.
Micromachining
Microelectronics and semiconductors are the target items in this regard. Micro-featuring can be done on medical equipment utilizing the precision marking of lasers.
Implants and micro-tools can also be cut out with the detail-oriented etching of laser engravers.
Safety
With the contactless approach along with automated processing of substrates, laser engravers ensure that the user receives no harm.
The ComMarker B4 should be operated with one hand and safety goggles should be worn with it to ensure a secure experience.
With proper grounding, a laser engraver can be shock-resistant.
Use and well-ventilated area and do not employ materials not recommended for engraving. This can result in fires and fumes.
It is imperative to inspect the engraver for any damages for regular repairs and maintenance. This ensures user safety and high performance.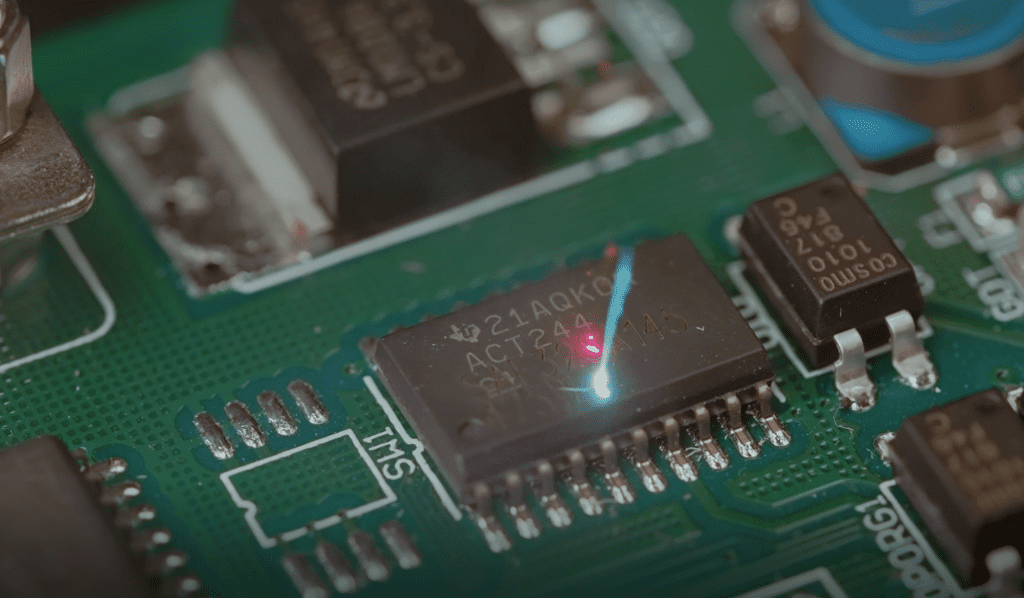 Current Available Laser Engravers in the Market
With the flexible manufacturing sectors seeking laser engravers for efficient and revenue-generated functioning, there are several of them currently available. Below, we have discussed some of the most commonly available laser engravers in the marketplace.
1. CO₂ Lasers
These use carbon dioxide to etch things at a medium level of power. Its output capabilities are remarkable, with an average of 1W-50kW.
The amount of engraving accuracy here is around average.
These are simple types of lasers, thus they're also simple to operate
The price is reasonable.
While they aren't the best for etching metal, they may be used to create permanent engravings in on wood, cardboard, leather, etc.
2. Solid State Lasers
With a solid-state laser as their source of etching, these lasers ablate the material on specific points. These are one of the high-demand engravers.
From ceramic, and metals to plastics, almost all types of materials can be etched on using these.
These are a little bit expensive, with their superior workability. These are however not ideal for SMEs due to the price bracket.
It is long-lasting and has low maintenance costs.
3. Fiber Lasers
High-output fiber lasers engraving machine are among the most popular types of lasers on the market. These employ fiber optics and a focal length lens to create a focused beam for precise cuts. Such lasers are some of the most commonly utilized in POD sectors and print media. ComMarker B4 is the leading engraver in this regard, as it has variable power outputs from 20W to 100W.
Their primary value is as engraving tools for a wide variety of materials, including metals, fiberglass, carbon fiber, synthetic leathers, etc.
They are very precise and give deep engraves.
For consistent engraving, these are ideal as they have cooling induction, keeping the laser functioning for a long time.
ComMarker B4 laser engraver for metal can engrave on several materials, including aluminum, gold, silver, titanium, stainless steel, cowhide, etc.
While they aren't cheap, they're far more reasonable for small and medium-sized enterprises than industrial-scale lasers.
4. Ultraviolet Lasers
With a UV range of 355 nm, use a laser beam that falls within the UV spectrum. These are generally utilized for glass-related products. Being category-specific, they are not as versatile.
UV laser engravers have a speed upward of 500 mm/s making them fast and time-efficient.
They are generally utilized for semiconductors, glass, plastics, and certain sensitive materials.
These are also detail-focused, with extremely precise lengths.
UV lasers excel in micromachining and other operations requiring extreme accuracy.
These can be harmful to the eyes because of the UV rays, thus special measures should be taken to use this.
5. Green Light Lasers
With a laser beam that falls in the visible light spectrum, green light lasers are suitable for etching delicate materials. Its laser light is employed at 532 nm. They are the least popular and seldom utilized because of their inability to cut through harder objects.
With high accuracy, green light lasers are fast.
These are affordable but do not have much functionality.
Materials such as plastics and reflective materials can be crafted using these laser engravers. Business card and printing material sectors usually use these on a small scale.
Factors Associated with Laser Engraver Purchase
While purchasing a laser engraver, there are several factors that should be kept in mind. As most people want to buy a laser engraver for start-ups and Small-sized businesses, a laser should be high value for money.
Types of Engraving Material
The first factor that should be considered is the material that the engraver can easily work on. ComMarker B4 is perfect as its engraving capabilities are endless. It can create 3D designs with various hues and depths on steel to leather.
Processing Precision
The second factor to keep in mind is how precise the laser can be. Custom and barcode-related products require detailed patterns. For this purpose, ComMarker B4 works wonders.
Production Efficiency
The laser engraver should not be time-consuming or require a lot of effort to create complex designs. It should have high product-production ability in the required time to fulfill order demands.
To Sum It Up
Although laser engravers require upkeep, they are highly effective tools with diverse etching abilities. However, fiber lasers and solid-state lasers take the crown in the engraving industry because of their speed, precision, and value for money. Multipurpose usage in several high-production industries makes these sought-after and of premium market value. We hope this article contains all relevant information to help you make a wise purchase decision.