Laser engraving technology has come a long way, thanks to its advanced marking capabilities, giving fiber laser systems the ability to mark and etch metals. It uses a high-intensity beam of light that engraves or etches your objects- be it for artistry, personalization, or traceability.
Since it can work on a range of materials, many businesses and hobbyists are leveraging the laser capability to produce personalized items on metals, creating stunning designs and etchings that stand the test of time.
However, metal engraving has its prospects and constraints, as metal has unique properties. The reflectivity and high vaporization temperatures demand increased energy density and higher laser power delivery to achieve the desired effects on metal.
If you're up to investing in a metal laser engraver, surround yourself with these important considerations to make a sound choice.
How Does The Metal Engraving Work?
Metal laser engravers are best to work on metals because they operate on the principle of sublimation. This means the removal of material from a solid surface.
Because fiber laser engravers has high laser beam intensity, materials such as steel, aluminum, and (almost) all other metals can be vaporized directly. This is due to the high pulse power of the fiber laser (with ComMarker B4) in combination with a minimal laser spot diameter.
This machine can engrave texts, logos, serial numbers, or other contents into the material. The volume of the material is reduced, and its color is changed. The resulting brown areas consist of metal oxides (or rust), which can be cleaned using polishing parameters with a second cleaning cycle.
Engraving on stainless steel requires high power, low frequency (which results in high power per pulse), and marking speeds of 250 – 900 mm/sec.
Factors To Consider When Choosing A Metal Laser Engraving Machine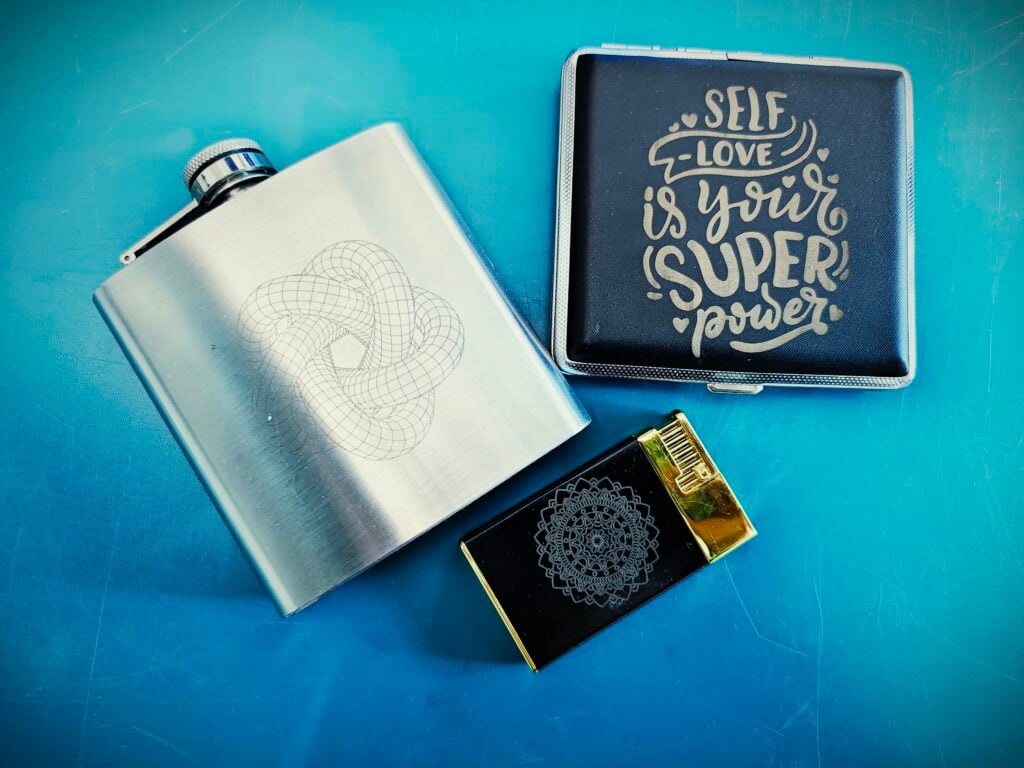 Material Compatibility
Metal engraving machines are explicitly designed for engraving a wide array of metal materials such as stainless steel, carbon steel, aluminum, titanium, copper, and brass, but not all can do the job equally.
Each metal has its own set of characteristics, so ideally, it is imperative to know the material's vaporization temperature, thickness, and reflectivity when choosing the machine. Some metals are intrinsically easier to engrave than others and need different laser machines to do the job.
Some metals, such as copper and stainless steel, are more reflective than others, so engraving them can be challenging as they can cause damage to the material and the machine. Metals with Higher vaporization temperatures, such as iron and titanium, require higher-power lasers or multiple laser passes to complete the engraving successfully.
Reflectivity impacts the metal's ability to absorb energy from the laser system so it can be heated to bring it to its vaporization temperature. These factors can significantly impact the engraving's quality and the efficiency of the engraving process.
For metal engraving machines, you must check characteristics, such as power strength, thermal expansion properties, or corrosion resistance, to satisfy a particular purpose.
Fiber laser engravers from ComMarker are best suited for metal processing as metals react well to fiber lasers because most of them absorb their wavelength efficiently, have a higher concentrated heat, small focal length, and 1064nm wavelengths to alter the color surface of the metal to create unique decorative effects.
Power and Speed:
The quality of your engraving is directly affected by its machine power and watts. It is safe to say that machines with more horsepower and wattage can etch thicker metal and create more intricate designs faster.
Whereas, Low-quality laser engravers may have an inefficient laser source, frequently resulting in inaccurate engravings.
Knowing the laser power and wavelength is important to understand as it tells you whether a particular machine can work appropriately for your needs.
For the laser machine to engrave things deeply enough, you surely need a high-powered system. A 20W or 30W engraving machine goes well for permanent markings. If special requirements exist, a fiber laser measuring a power output of 50W or 60W is the ideal choice.
A fiber laser engraving machine with a wavelength of 1,064 nm is ideal for processing metals. The erbium-doped fiber laser of a wavelength of 1,550 nm is well suited for telecommunication purposes. Similarly, A thulium-doped fiber laser with a wavelength of 1,040 nm works great for engraving medical equipment.
Thus, fiber lasers function at different wavelengths for different engraving needs, so you must look up the laser source to understand its potential.
Size of The Working Area
Another great aspect of the engraving project is the size of the working area that determines the productivity and adaptability of a laser engraver.
Jewelry and other small metal objects are considered appropriate for smaller engraving areas, whereas more extensive engraving areas go well for larger projects like signage and marking industrial equipment.
Also, select a laser engraver with an appropriate engraving area based on the size of the objects you intend to etch. The most popular sizes of the working area are from 75mm x 75mm to 300mm x 300 mm.
Software Compatibility:
Every unique or creative design is incomplete if the software bringing these ideas to life fails to synchronize with the metal laser engraving system.
This means selecting machine-compatible software is what you need to gain access to a robust set of tools that empower you to create and modify vector shapes and designs effortlessly.
Some popular software options for metal engravers are Lightburn, Ezcad.
Safety Features
Fiber laser engravers may scare you with its unexpected hazards, so preventing their occurrences beforehand would save you a lot from major happenings.
Before you start an engraving task, take all the precautionary measures. The points below show the most important safety considerations for laser engraving metal:
First thing first, ensure that the operator doing the engraving work is well-trained and thoroughly informed about each aspect of the process.
We all know that fiber laser engravers use highly concentrated beams, so it is advisable to keep a fire extinguisher nearby.
While you perform the laser engraving task, it may often emit toxic fumes that can harm you. This calls for an efficiently working exhaust system to the rescue.
As a best prevention, always use appropriate laser safety glasses to prevent laser radiation from damaging your eyes. Safety procedures are done depending on the type of laser in use.
Last but not the least, Check that all safety features indicated in the manufacturer's operating manual are followed.
Maintenance and Lifespan:
What refers to regular maintenance and support is the laser engraver's longevity and optimal performance.
Although fiber lasers have almost zero maintenance cost, a proper care would add to its lifespan. This includes cleaning the machine, checking and aligning the laser optics, and replacing worn-out parts.
Moreover, factors such as the availability of replacement parts, ease of access to technical support, and warranty and service agreements should also be considered.
Leading Metal Laser Engraving Machines In 2023: ComMarker
ComMarker, the leading laser engraver manufacturer, has a lot to know about. It has got the best laser engraving machines in the industry to fulfill large orders or a modestly priced laser engraving machine to engrave metal on a small scale.
Search for the best laser engraver for metal or metal engraving machines, and you'll be flooded with options. Some of these laser machines are cost-effective and easy to use, with a laser module that requires limited skills.
ComMarker Best Laser Engravers for Metal
| | | |
| --- | --- | --- |
| Laser Engraver For Metal | Best For ProB4 JPT MOPA Fiber Laser Engraver | Best For OverallB4 Laser Engraver |
| |       |     |
| Features | It is designed to do vibrant color marking on stainless steel and high contrast engraving on anodized aluminum | It boasts the most powerful output across all industrial-grade fiber laser engravers.It delivers deeper etches faster and in much finer detail on all metals, as well as plastic, leather, and more. |
| Speed | Up to 15,000mm/s with high accuracy to 0.01mm. | 15,000mm/s with a high accuracy of 0.01mm precision. |
| Price | $2900 | $1999 |
| Software Compatibility | EZCAD2,LightBurn | EZCAD2, LightBurn |
| Power | 20W, 30W, 60W,100W | 20W, 30W,50W, 60W,100W |
| Working Area | 110mm x 110mm150mm x 150mm200mm x 200mm300mm x 300mm | 110mm x 110mm150mm x 150mm200mm x 200mm |
If you're willing to elevate your metalwork craft, consider investing in ComMarker B4 JPT MOPA laser engraver to unlock limitless artistic potential.
It can effortlessly engrave intricate patterns on stainless steel, stone, leather, and anodized aluminum with 0.01mm precision and efficiency. From bespoke keepsakes to industrial-grade prototypes, this device has no end to creativity. Delve into new artistic methods, refine your engraving skills, and witness your creativity come to life.
It is equipped with a revolutionized color marking technology and a concealed lifting motor that ensures spot-on focusing, offering smooth and hassle-free markings with impeccable results with every use.
It authorizes you to engrave any pattern on the material using its software, like Ezcad2 and Light burn, across diverse image formats.
Move away from conventional techniques and embrace the innovation of laser engraving with B4 JPT MOPA.
Key Features: The Advanced MOPA Fiber Laser steps up from the conventional fiber laser and provides superior marking capabilities. The feature of adjustable pulse width allows operators to adjust width via software, granting them the flexibility to achieve incredibly delicate and detailed markings.
B4 Fiber Laser Engraver
In the dynamic world of metal engraving and precision marking, the ComMARKER B4 Fiber Laser is a sound investment. With an output power of 20 watts, this machine can mark through any metal material with ease. It provides a large work area of 200 x 200 mm, has batch processing features, and simple rotary engraving for all types of metal engraving.
The telescopic lifting level lets you better customize the laser engraving height to suit your workflow. a one-button adjustable platform that is customizable to any object's height, giving you ultimate project flexibility.
The engraver is compatible with rotary marking attachments for engraving on cylindrical objects and metal rings.
This laser source is compatible with two popular laser control programs: Ezcad2 and LightBurn
Key Features: Integrated design, compact and firm structure, and stable performance Adopt high-quality laser source with good spot quality, uniform optical power density, stable output optical power, no light leakage, high reflection resistance, etc.
Tips for Achieving Optimal Engraving Results
Metal laser engravers are a staple choice for fine, detailed, and precise engraving marks. This can only be achieved when the process is carefully operated with the below-mentioned descriptions in mind.
Metal Surface Preparation
Before you begin engraving the metal, you should prepare the material by cleaning it with soapy water or rubbing alcohol. Contaminants on a surface can compromise the quality and effectiveness of the engraving, so ensure no dirt or residue is left on. After you finish it, you'll need to pre-mark any guiding lines or outlines on the metal to keep your design aligned.
Setting the Right Laser Power and Speed
Laser speed and power are the most important parameters during engraving. A slight difference in their settings gives different engraving results. These parameters depend highly on factors such as metal thickness, depth, and engraving need.
A general idea is the higher the power, the more energy will be emitted, and the deeper the engraving you will get; the lower the power, the less energy and the lighter the engraving effect is.
Specifically, you can apply laser power between 25W and 80W and obtain excellent results on metals.
The Power parameter defines the laser output power. 100% is maximum power. You generally need higher values for deep metal engravings.
While the Speed laser parameter describes the movement of the laser head, fast speeds lead to short exposure times, and slow speeds lead to long exposure times. You need high speeds between 80% and 100% for large-scale engravings, but the speed should be minimized for engravings with lots of detail.
Using the Appropriate Lens to Ensure Precision
The function of the fiber engraver lens is to focus parallel laser beams at one point. These f-theta lenses have different focal lengths, so the marking effects and ranges differ. The standard lens focal length is f = 160mm, and the effective scanning range is 110mm. Users can choose different types of lenses to achieve the desired precision.
Long-focus lenses have a slightly larger spot size but are better-suitable for engraving thicker materials. Short-focus lenses are designed to perform a finer engraving, giving out a smaller spot size.
However, smaller lenses have a reduced depth of focus, causing decreased engraving capacity, and are only recommended for marking thin materials. The larger the lens, the larger the spot size and depth of focus is, increasing the machine engraving capability on metal.
Regular Maintenance and Cleaning of the Machine
This part is necessary if you want your metal laser engravers to stay long, well-functioning, and durable. Otherwise, dust and debris can accumulate in the engraving area and on the lenses, mirrors, and other components of the machine, affecting the engraving quality and the laser's performance.
In this regard, you can take measures like regularly cleaning the machine with a dry cloth. Cover the device within the enclosures and frequently lubricate the moving parts. Also, keeping the machine away from external elements like windy air, sun, and rain can upkeep the machine's consistent reliability, product life, and quality output.
Safety Precautions When Using a Laser Engraving Machine
When choosing a laser machine, it is very important to pay attention to the safety precautions to prevent harmful happenings. This include
Set up a proper ventilation system to evacuate harmful gasses and chemical accumulation so that proper airflow is maintained.
Don't leave the system unattended and wear safety gears when performing the tasks. It includes protective clothing, glasses and gloves.
Each system has its own emergency buttons and interlocks, so make sure they're effective, accessible and proficiently running during the procedure.
Always ensure proper lighting and clear visibility at the engraving workplace. Poor lighting can result in accidents and injuries, and can also impact the quality of the engravings.
The Future of Metal Laser Engraving
The applications of metal laser technology are expanding across a myriad of industries for serialization, texturing, permanent laser branding, Direct part marking on automotive metal products, and Unique Device Identification on noncorrosive surgical equipment and implants.
These machines can produce versatile, sharp, and permanent markings and have inevitably proven their return on investment quicker and more profitable than ever.
Because these machines use a light beam, the present world now focuses on permanent marking solutions. The notable point in this process is that it doesn't require inks. That's why people in this modern world are learning about this process and finding out how this method will help their business.
The ComMarker Fiber Engravers for metal have seen a steady increase in demand in almost all aspects; customer interest, cost-effectiveness, eases of use, and compact size.
It is an attractive sector with guaranteed profits, successful scope, and wider applicability. The future trends show the following trend in this segment.
The availability and affordability of 3D marking to perform complex engraving tasks.
The creation of multi-axis engraving to do complex and elaborated designs on materials.
Environmental friendly and sustainable engraving techniques that empower recyclable materials and lessen environmental impact.
Engraving open up opportunities for branding and personalization. Custom made designs and memorable crafting can be achieved, resulting in increased consumer base.
The use of laser inscriptions and color markings for customized products in the e-commerce sector is growing. It acts as a great way to establish customer relationships and brand building.
As you can see, the future of laser engraving looks bright, predicting even more advancements in the coming years. The machine's ability to engrave a range of metals quickly, accurately, and with ultimate precision allows businesses, small and large, to jump on the trend.
Conclusion
Fiber or metal laser engravers are the preferred choice for high-quality, extraordinary, and valuable markings on metals. Since the future is highly towards personalization and customization, this is going to be the most beneficial market for businesses and industrialists.
A metal laser machine can bring a client's vision to life by making it into an engraved object, resulting in building strong customer bonds and potential earnings in the end.
Hence, the broader application of metal engravers has expanded the market in recent years and is expected to increase more in the near future.
A metal laser marking machine is an excellent solution to get rid of those prints that easily get lost in sight with time and create a wrong impression of you. In many industries, metal laser marking machines are incredibly favorable for clear, realistic, and permanent marking with almost zero requirements in terms of maintenance.